Quick Links
Incident Response | Parents | Kids | Veterans
Educators | COVID-19 | Business | Cybersecurity Professionals
FOR EVERYONE (Key terms)
Practice Cyberethics – Cyberethics is a code of behavior on the Internet. Based on common sense and good judgment, cyberethics also includes obeying laws that apply to online behavior.
Good Online Habits — Using your computer wisely creating a regular tendency or practice.
Identity Theft — The fraudulent acquisition and use of a person's private identifying information, usually for financial gain.
Online Sexual Predators — Online predators are individuals who commit child sexual abuse that begins or takes place on the Internet.
Internet Fraud — Use of the Internet and could involve hiding of information or providing incorrect information for the purpose of tricking victims out of money
Phishing Scams — Recognize malicious email
Financial Safety — Keeping your online accounts safe
TOP 5 WAYS TO PROTECT YOURSELF ONLINE
Use anti-virus and separate anti-spyware software, and keep them up to date.
Do not open emails or attachments from unknown sources. Be suspicious of any attachments—even if it appears to be from someone you know.
Use hard-to-guess passwords and keep them private.
Update all your software regularly to ensure that you get security updates. Check monthly or more often.
Back up your computer files frequently.
DON'T OPEN UNSOLICITED (SPAM) EMAILS!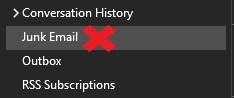 The Internet Crime Complaint Center (IC3) urges computer users to not open unsolicited (spam) e-mails, including clicking links contained within those messages. Even if the sender is familiar, the public should exercise due diligence. Computer owners must ensure they have up-to-date firewall and anti-virus software running on their machines to detect and deflect malicious software.
The IC3 recommends the public do the following:
Adjust the privacy settings on social networking sites you frequent to make it more difficult for people you know and do not know to post content to your page. Even a 'friend' can unknowingly pass on multimedia that's actually malicious software.
Do not agree to download software to view videos. These applications can infect your computer.
Read e-mails you receive carefully. Fraudulent messages often feature misspellings, poor grammar, and nonstandard English.
Report e-mails you receive that purport to be from the FBI. Criminals often use the FBI's name and seal to add legitimacy to their fraudulent schemes. In fact, the FBI does not send unsolicited e-mails to the public. Should you receive unsolicited messages that feature the FBI's name, seal, or that reference a division or unit within the FBI or an individual employee, report it to the Internet Crime Complaint Center at www.ic3.gov.
If you receive unsolicited email offers or spam, you can forward the messages to the Federal Trade Commission at spam@uce.gov.
AT HOME
These following are useful resources for ensuring online safety at home.